A robotics championship ring celebration can be an exciting and memorable event. Here's a step-by-step guide to help you organize a successful celebration.
Remember to tailor these suggestions to the preferences and culture of your school and community. The key is to create a celebration that honors the achievements of the student competitors and fosters a sense of pride and camaraderie.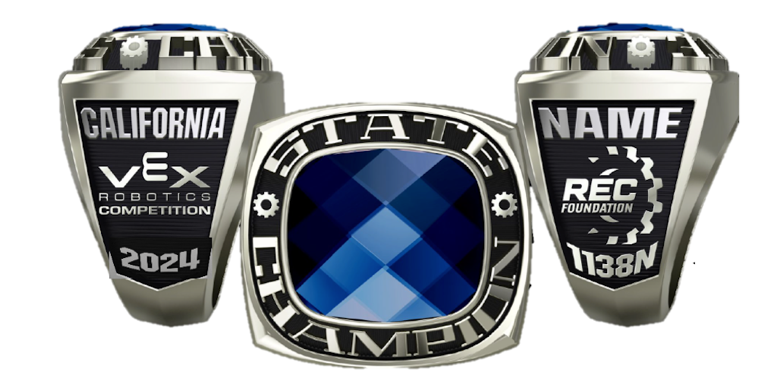 Set a Date and Time

Choose a date that works well for the students, teachers, administrators, coaches, and families.
Consider scheduling the celebration on a weekend to accommodate more attendees.
Consider including the celebration inside of a schoolwide pep rally.

Select a Venue

Choose a venue that reflects the significance of the occasion.
Consider the school gymnasium or an event hall/auditorium.

Create an Invitation

Design visually appealing invitations that include details of date, time, venue, dress code, and RSVP information.
Send invitations well in advance to ensure a good turnout.

Decorations

Decorate the venue with school colors, banners, and robot-related items.
Incorporate elements that highlight the achievement, such as banners or posters featuring the championship team.

Guest Speakers

Invite guest speakers such as coaches, alumni, or local industry representatives to share inspirational messages.
Consider asking someone involved with the team's success, such as a key supporter or sponsor, to speak.

Championship Ring Ceremony

Plan a special moment for the championship ring presentation.
Consider having a notable figure, administrator, or alumni present the rings to each student individually.

Additional Award Presentations (0ptional)

Recognize individual achievements, sportsmanship, and other notable accomplishments.
Hand out awards or certificates to students, coaches, and support staff.

Photo and Video Opportunities

Consider hiring a photographer and/or videographer to capture the event.
Set up a designated area for pictures with the championship rings.

Entertainment (Optional)

Consider including some entertainment, such as a DJ or a slideshow of memorable moments from the season.
Include music that resonates with the students and guests.

Catering (Optional)

Organize catering services that suit the preferences and dietary needs of the attendees.
Consider incorporating a championship-themed cake or dessert.

Gratitude and Acknowledgments

Express gratitude to sponsors, parents, and everyone who supported the team.
Provide opportunities for the students to express their appreciation.