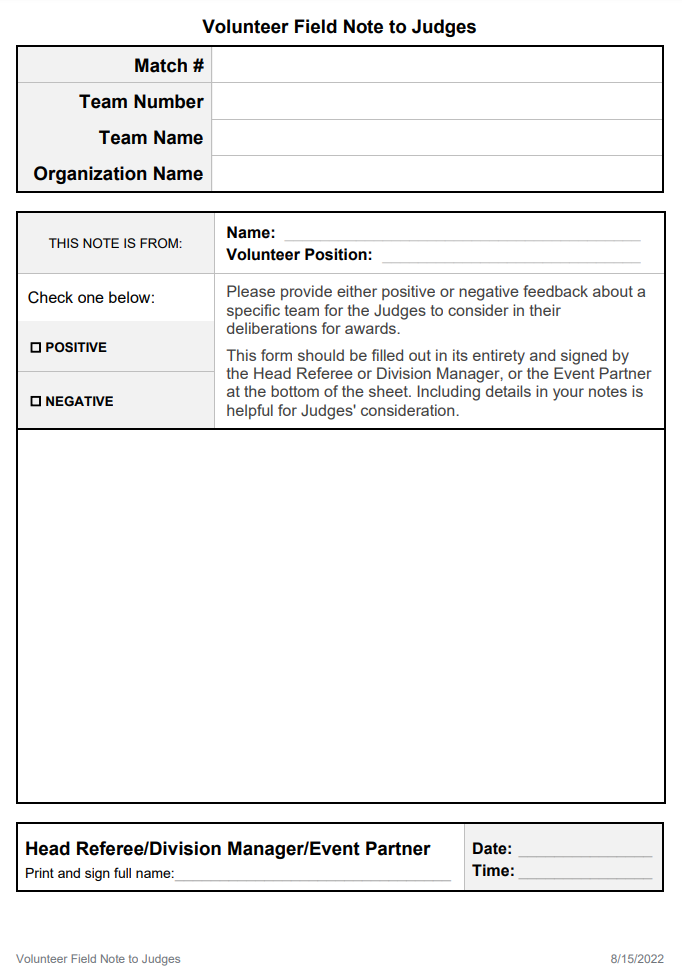 If information comes to light that a team may have violated the Code of Conduct or Student Centered Policy, either by judge observations or from Volunteer Field Notes to Judges, that team's consideration for the judged award should be scrutinized by the Judge Advisor. If there is found to be merit in that information, the award is given to the next alternate team in the award nomination ranking.
Any event volunteer may provide feedback to the Judges, Judge Advisor, or Event Partner about the conduct of teams, coaches, mentors, or parents using the "Volunteer Field Note to Judges" form. Volunteers may report exemplary conduct, like a team that helps another by loaning a motor or assisting in some other way. Volunteers may also report negative conduct, such as a team that is impolite or consistently late to matches. Judges may also share issues with the Judge Advisor, including circumstances where a team is not student-centered or there are behavior issues with adults.
Any conduct that may be a violation of the REC Foundation Code of Conduct shall be reported immediately to the Event Partner. The Event Partner will contact their REC Foundation Event Engagement Manager (EEM) to discuss the possible violation.
Removal of Teams from Consideration
The Event Partner should share any Field Notes to Judges by providing them to the Judge Advisor. The Judge Advisor may speak with the Event Partner, the volunteer who reported the issue, or other individuals at the event when considering negative reports on teams.
The Judge Advisor, in consultation with the Event Partner, may decide to remove a team from consideration for judged awards where: (1) the behavior is repeated or egregious; and (2) there is sufficient reasonable evidence to support the decision. The decision to remove a team from consideration for judged awards should be done with caution and with a reasonable benefit of the doubt given to the team.
When a team has been removed from consideration of judged awards at an event, the Event Partner must inform the REC Foundation EEM as soon as possible. The Event Partner must also follow up in writing (i.e., via email) with a summary of the issue and include the name and contact information of the Judge Advisor, team information, and any relevant information needed for the REC Foundation to review the matter.