Entry Points to VEX and the REC Foundation
If you're reading this, you probably have a child who has joined or is interested in joining a VEX Robotics team. Congratulations! The VEX Robotics competitions will introduce your student to coding, engineering, real-world problem solving, innovative thinking, and communication skills while giving them opportunities to build lifelong skills and friendships. This set of resources and articles will help you encourage and support your student's STEM journey.
The term "Parent'' is used for simplicity in this article to indicate any parent, caregiver, guardian, or grownup responsible for a child.
---
What Other VEX Parents Have to Say
---
Welcome From a VEX Parent
Hello Future VEX Parents,
Welcome to one of the most fun, exciting, and enriching clubs available!
When my family first started out on a VEX IQ team, we had no idea what we were getting ourselves into. It seemed daunting in the beginning, at least for me, having zero engineering background and not understanding a thing that was happening. My 3 sons, however, are another story. Right from the start they fell in love with all the aspects of VEX Robotics and now 8 years later I have as well.
Through VEX, not only have my sons learned how to build and write code for their robot, but they also learned soft skills like working together as a team, recognizing areas of excellence in their teammates, problem solving, and perhaps most importantly to try, fail, and try again, documenting each step in an engineering notebook.
Another great benefit of VEX Robotics is that it's completely student led which builds the confidence in their ability to succeed and develops the social skills needed to accomplish their goals. Teachers/coaches and parents are allowed to direct and answer all questions but are prohibited from building, designing, coding, or repairing any broken robots. This is tough as a parent as you'd like to help, but looking back at it now, it was all worth it. As parents we may not be able to help with the building process, but we can help to make sure the tournaments run smoothly and successfully for our kids. Volunteering is a fun part of VEX Robotics and gives parents a deeper understanding of how the tournaments are run and the rules of the game—and also connects parents with the students. As I said before, I knew nothing about robotics and can now referee, coach, and run Tournament Manager (the software used to run the tournaments).
Throughout the years, my sons have been active on Elementary, Middle school, and Homeschool teams. Although each team came from a different age group or school, it didn't change the tournament experience. Watching the kids participate in tournaments with all the different robots they've independently built is such fun. One of the best aspects of the VEX IQ Robotics Competition is that the two teams work together as an alliance in order to score the most points in a match. As a parent I appreciate this because the kids are learning to work together, understanding that although we come with different ideas, we all have something to bring to the table. It is truly amazing to see what these kids can do when they put their minds to it!
Here we are 8 years and 5 world championships later and I wouldn't change a thing. This program has proven to be more than just fun, it has enriched the lives of my children, shown them who and what they can become and has taught them important life skills that they will use in the future.
See you at the competitions!
Meghan Loden - Proud parent of awesome former roboteers on teams 10511B & 481A, and a current roboteer on 10511E
---
More Interviews With Parents and Students
Watch and learn from interviews of VEX parents as they describe the growth and learning they have witnessed in their children through participation in VEX Robotics.
---
Universities Want Robotics Students
---
Supporting STEM Students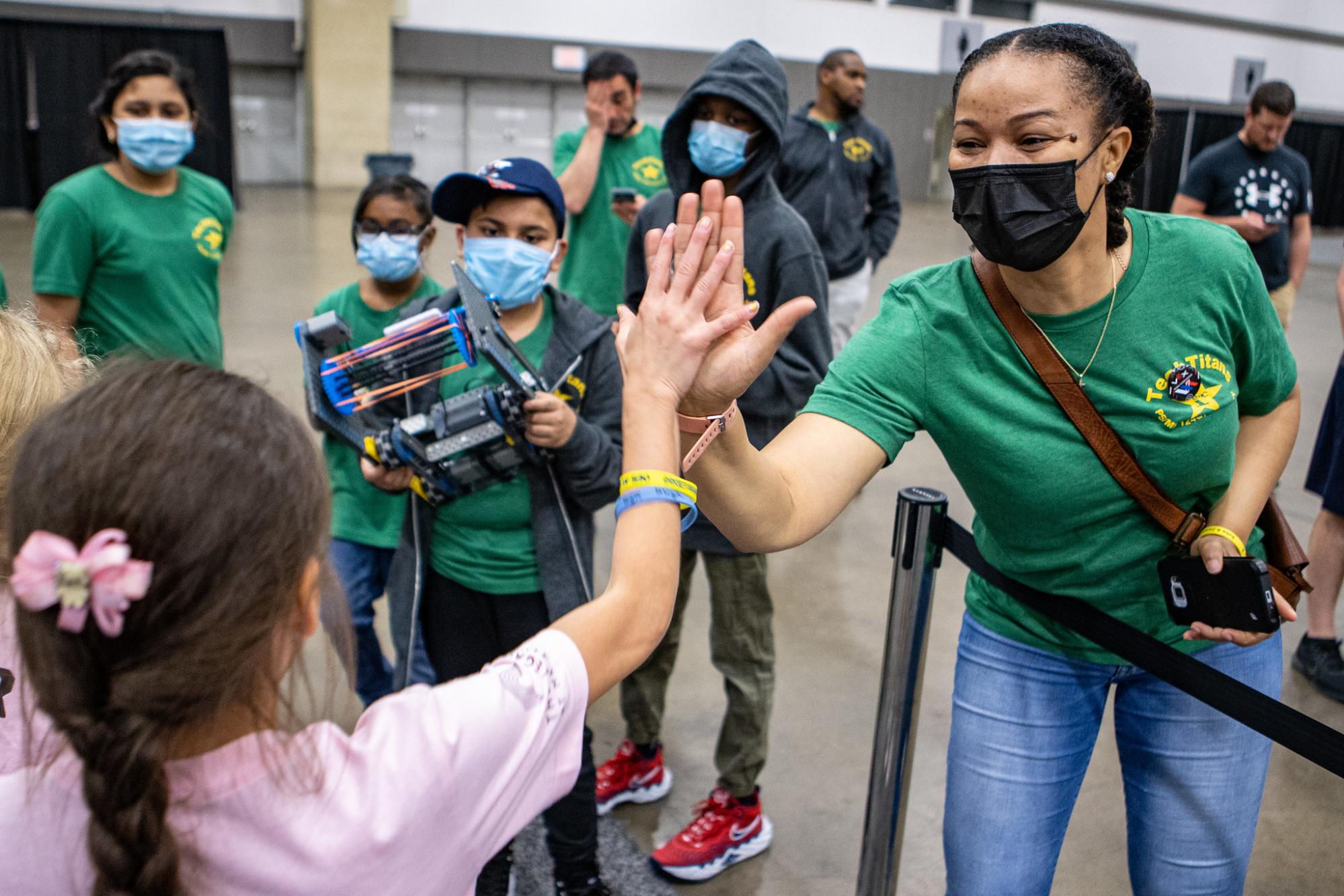 Learn the many ways you can encourage and foster your student in Robotics and STEM. This article covers things parents can provide, the many ways you can help at a tournament, and how your help makes a difference. There are also some pointers on things parents should not do.
Read the articles "How Can Parents Help?" and "Your Kid Just Joined a Robotics Team. What Does That Mean?"
Go even further and learn about coding a robot at vr.vex.com. VR stands for Virtual Robots and VEXcode VR is free.
---
Understanding Robotics Competitions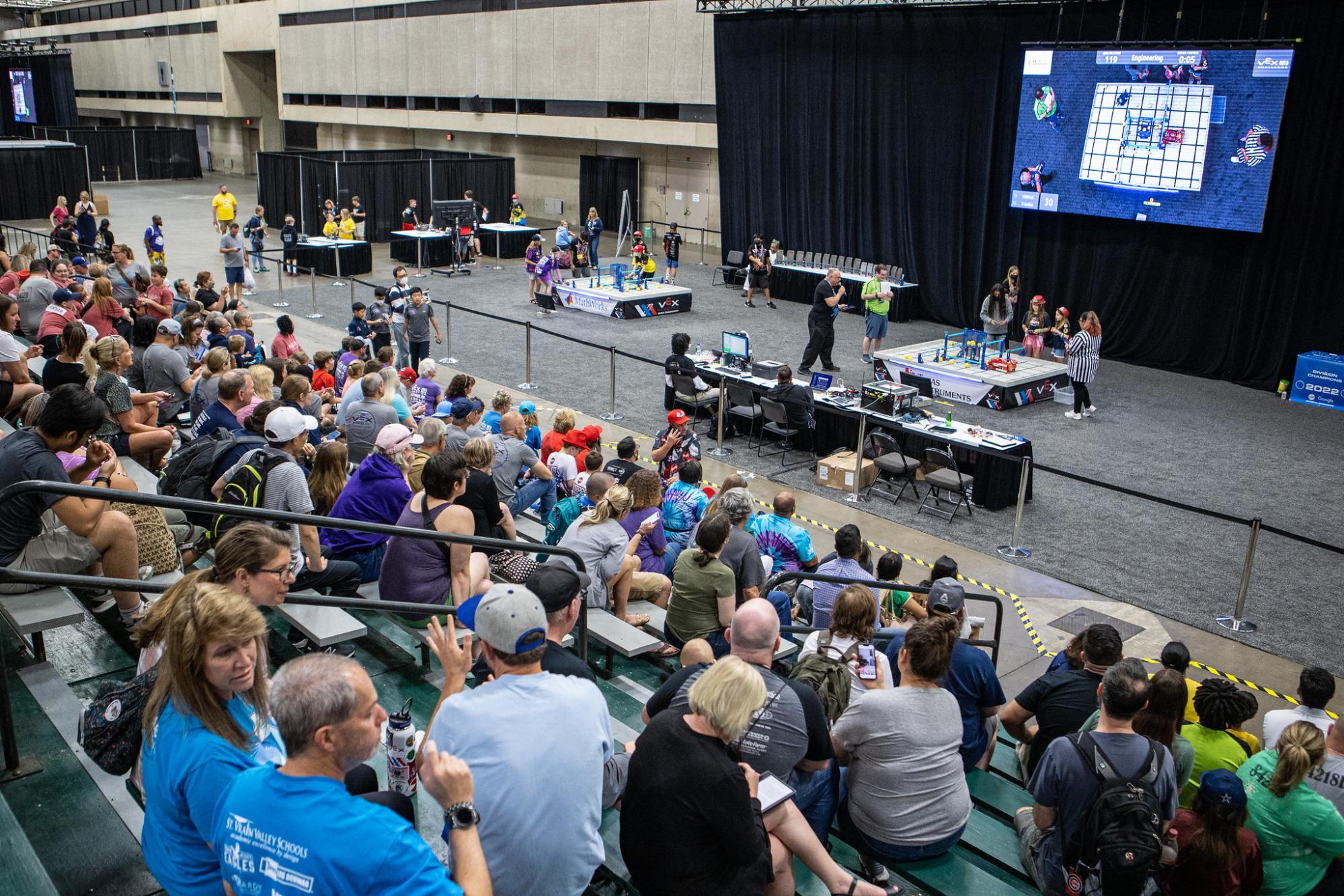 Attending a VEX Robotics event is a lot of fun. But it's even more fun if you know a little bit about what is going on.
Learn about
Event types
Logistics
How VEX is Student Centered
VIQRC Competitions
VRC Competitions
Awards
Volunteering
Learn more at VEX Tournaments 101
---
Code of Conduct
The Robotics Education & Competition (REC) Foundation considers the positive, respectful, and ethical conduct of all students, teachers, mentors, parents, and other event attendees an important and essential component of all REC Foundation-sanctioned events.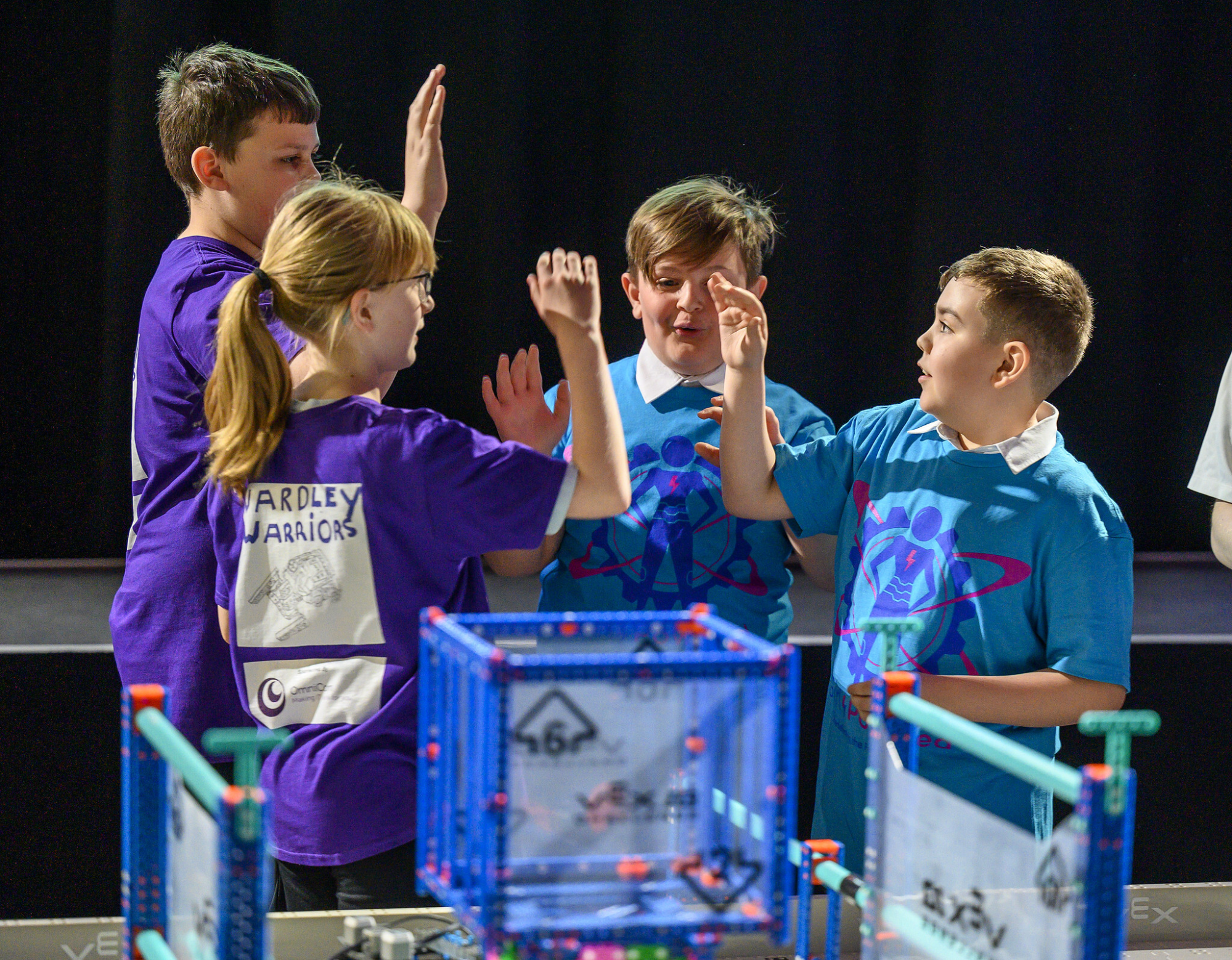 We expect the following behavior and ethical standards at all REC Foundation-sanctioned events:
Act with integrity, honesty, and reliability
Behave in a respectful and professional manner with event staff, volunteers, and fellow competitors
Exhibit maturity and class when dealing with difficult and stressful situations
Respect individual differences
Follow all rules as listed in the current game manual(s)
Student-centered teams with limited adult assistance
Safety as a top priority
Good sportsmanship, which includes supporting your alliance partners
These expectations apply to all team members and all adults associated with a team including, but not limited to, teachers, mentors, parents and guardians. This Code may also apply to behavior outside of REC Foundation-sanctioned events where inappropriate actions are related to an event or participating individuals.
Read more about the Code of Conduct
---
Scholarships
The REC Foundation partners with over 50 organizations, universities, and colleges to offer a scholarship program.
Learn more at scholarships.vex.com.