Equipment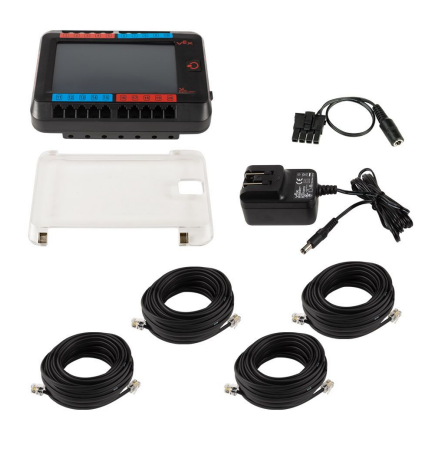 Field Control Kit


276-7741 - Smart Field Controller Kit
276-7742 - Smart Field Controller Global Kit
276-7743 - Smart Field Controller China Kit

Individual Parts

276-7577 - V5 Competition Field Controller
276-7581 - V5 Competition Field Power Cable
276-7740 - V5 Competition Field Controller Cables

Recommended

Raspberry Pi (1 per brain)
App Installation
Connect V5 Competition Field Controller (brain) directly to computer via USB
Open VEXcode, turn on V5 Competition Field Controller, ensure it is running the latest VEXos firmware (1.1.1 or later)
Go to: https://vrcfieldapp.vex.com/
Follow on screen instructions to download Field Application ( Match and Skills)
Initial Setup (Teams)
Open VEXcode
Connect robot brain directly to computer
Turn on robot brain
Ensure controller and robot are running the latest VEXos firmware (1.1.1 or later)
Set team number on robot brain (no spaces between team number and letter)
If using a V5 Competition Field Controller, an EP should communicate the above mentioned steps to coaches prior to the event. These must be checked at inspection for proper connection to the control system at an event.

Initial Setup (Event Partners)
Mount V5 Competition Field Controller to Field Perimeter


(Mounting solution for metal and portable fields TBD)

Connect Power Source and Controller Cables


Connecting the brain to a battery and the battery to a power source can be done as an alternative.
Direct power source using power adapter is recommended (diagram below)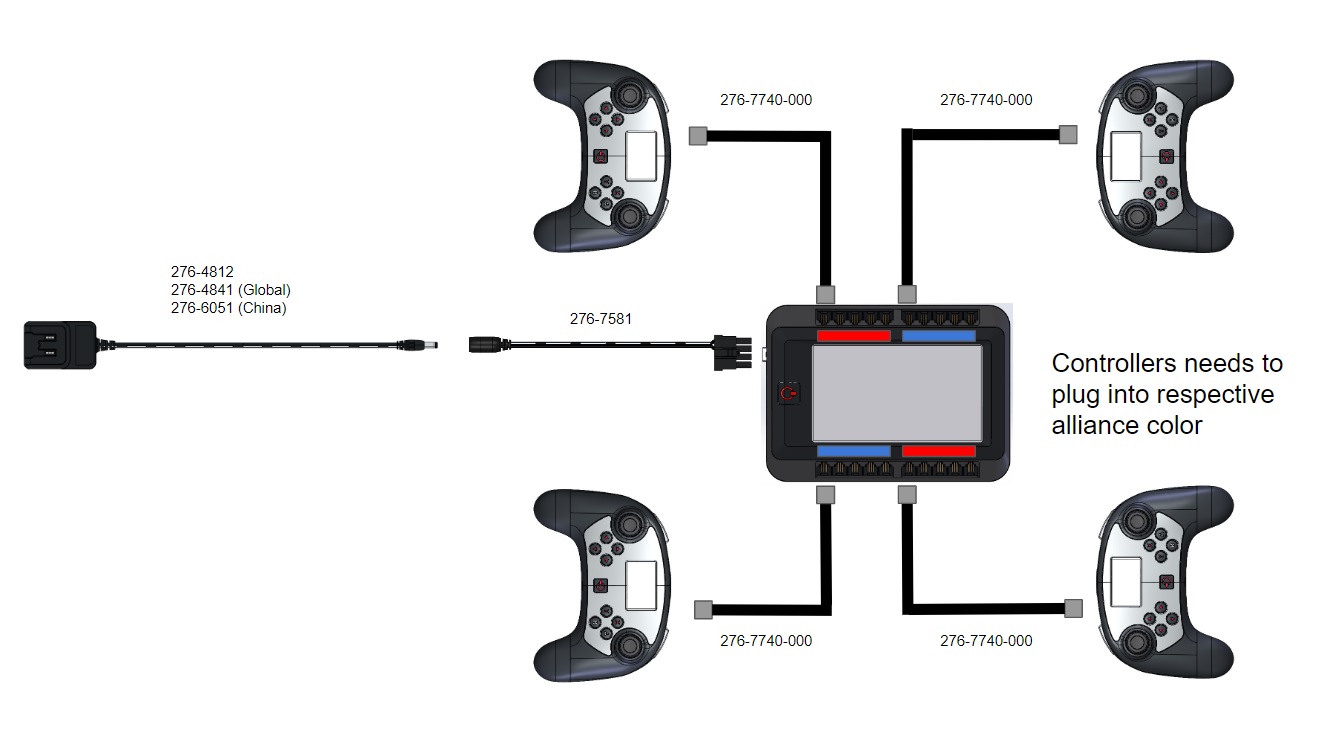 Connect Raspberry Pi to V5 Competition Field Controller via Micro USB


Recommended to use VEX brand micro USB

Connect Raspberry Pi to Display via HDMI


May need to reflash Raspberry Pi image on SD card
Recommended 3 amp power source on Raspberry Pi

Run Program


Turn on V5 Competition Field Controller
Select the "Programs" folder
Select the file "FC Match" (or "FC Skills")
Run program

Note: The Smart Field Controller must be connected and powered on before starting Tournament Manager.
Before a Match
Teams should connect controllers to the V5 Competition Field Controller


For VRC matches, each driver's station will have two smart cables. It does not matter which cable you use. Blue team cables will be at the blue team's driver station and the red team's cables will be at the red team's driver station. You can connect one of the smart cables to either of the two smart ports on your V5 controller. Do not connect to the middle/legacy port on the controller.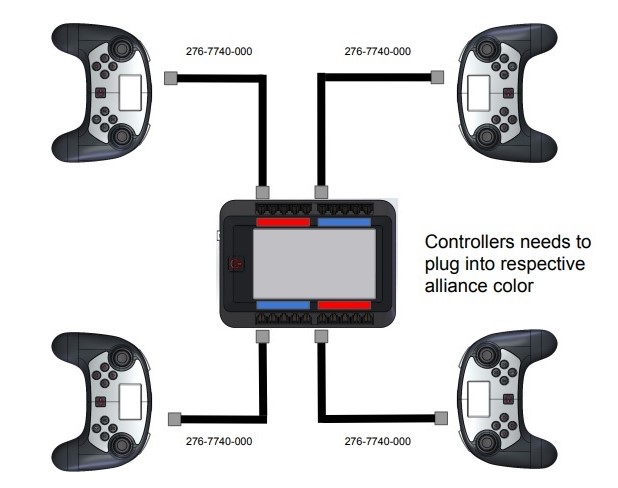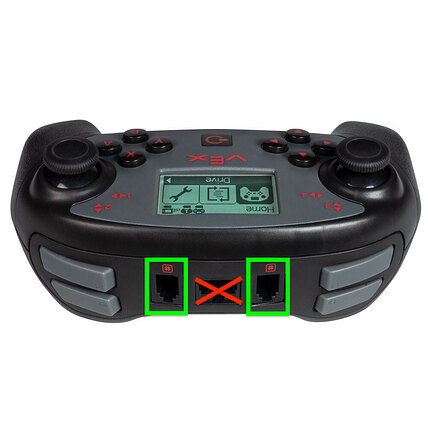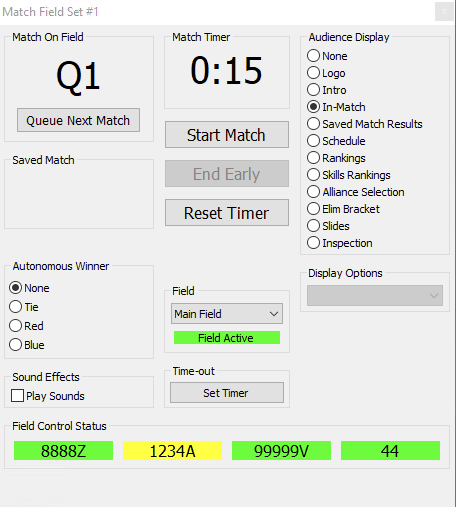 Check indicators on Field Queue Display


If Red - Field connection lost, Field Fault
If Yellow - Radio not Linked, Program Not Running, Wrong Firmware Field Standby (not active field)
If Gray - No Controller Connected
If Light Blue - Waiting for Field Activation
If Green - Ready for Match/Field Active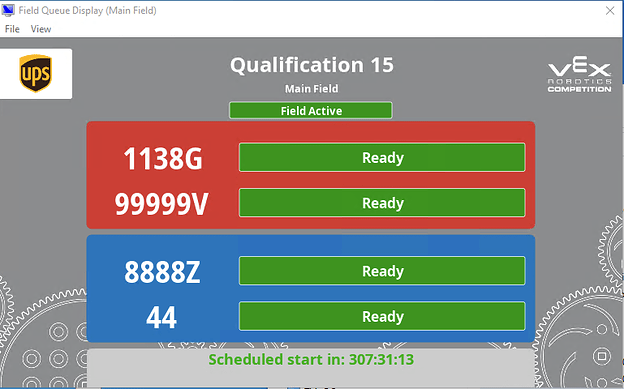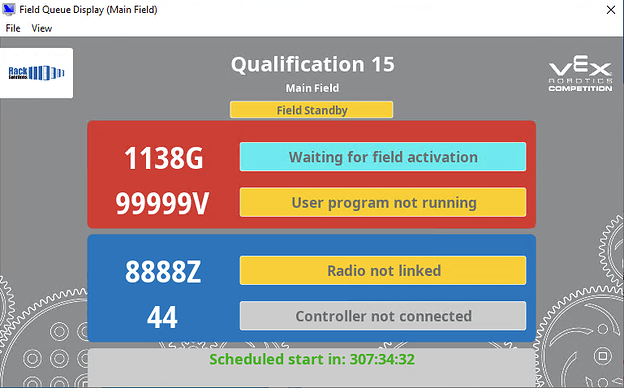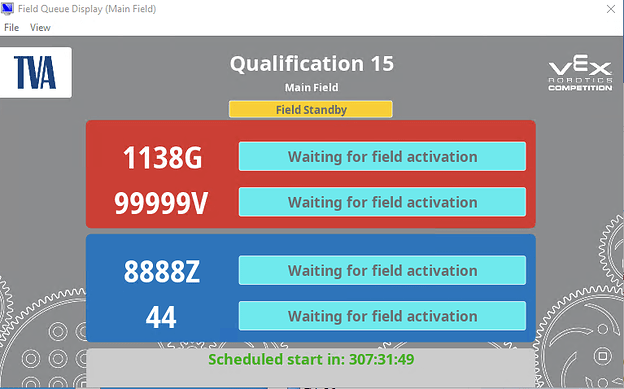 Start Match in Tournament Manager or TM Mobile (when all indicators are green)
Best Practices
Currently this feature is only available for V5 brains. Field control is not currently an option for EXP brains.
Existing V5 brains can be converted into Smart Field Controllers using the above outlined process. If you have brains with blown ports or brains that are not used for competition robots, they can be used as field controllers. If doing this, it is best to mark the blown/unavailable ports so no one connects to those specific ports at an event.
If using V5 Competition Field Controller at an event, an Event Partner should communicate this and the inspection steps to coaches prior to the event. Teams should come to the event with the proper firmware and team number/letter properly added to the robot brain via VEXcode. This will be part of the inspection process and necessary for robots to work with the field control system. This is part of the inspection process at VEX Worlds.
You should always connect the field control cable to the V5 controller that has the radio connection to the robot. So if you are using a dual controller setup make sure you plug the field's smart cable into the controller that is paired with the robot. Once you connect the cable to your controller you will see the field symbol show up on the status bar of the controller and you are officially connected to the field.
For VRC Skills attempts, there will be one smart cable at the blue alliance driver's station and one smart cable at the red alliance driver's station. Based on the chosen starting position the team can use the closest smart cable to connect their V5 controller to the field control system. Once connected the field control icon should show on the controller screen and the robot is ready to start the skills run.
Secure controller cables to perimeter with zip ties or gaffer tape.
Reflashing the Raspberry Pi image is recommended before initial use.
Cover legacy field control port on controller.
The Smart Field Controller must be connected and powered on before starting Tournament Manager.
The use of a Raspberry Pi is optional. PC's may be used.
Technical Specifications
For technical specifications and data/error logging information, visit the VEX Field Control User Manual
Compatibility with Macs is currently unavailable
Links
VEX Field Control User Manual
Field Application
Legacy Field Control Port Covers
USB A to Micro Cable (VEX brand - 1 per brain)