The articles in this series are intended to give families and spectators a general understanding of the VEX IQ Robotics Competition (VIQRC) so they can better appreciate watching their students at competitions. Be sure to continue on to Part 2 of this series, "Tournaments."
Benefits of VIQRC
Students are challenged with a new game each competition season, and collaborate with teammates in an iterative design process to develop a robot for the game. Teams gain hands-on, real-world engineering, coding, documentation, and presentation experience as they prepare for and compete in tournaments.

Presenting Organizations
The VEX IQ Robotics Competition is presented by VEX Robotics and the Robotics Education & Competition Foundation. A group of representatives from both companies—called the Game Design Committee—creates the rules for each season's VIQRC game.
VEX Robotics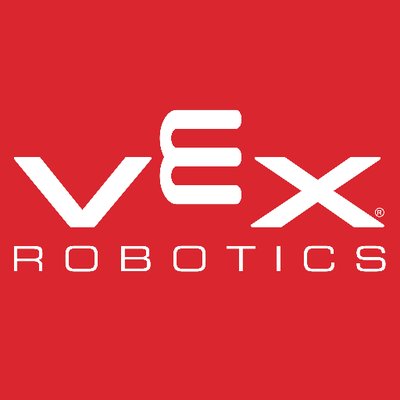 VEX Robotics is an educational robotics company that offers materials and curriculum for students of all ages, including the VEX IQ system. VEX Robotics is a subsidiary of Innovation First International (IFI), and is based in Greenville, Texas.
Robotics Education & Competition (REC) Foundation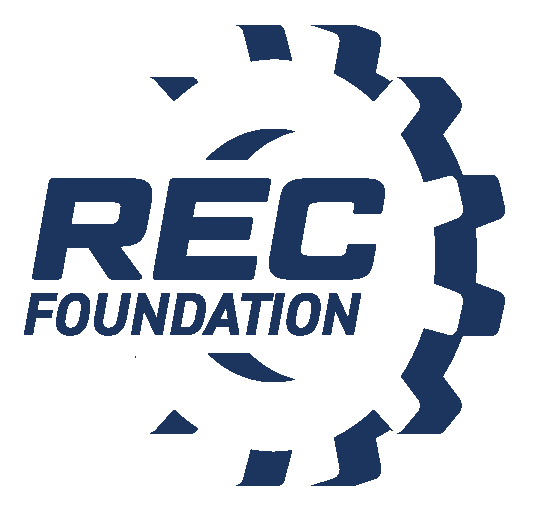 The REC Foundation offers a range of competitive robotics programs—including VIQRC—for elementary school through college students. Their programs spark interest in science, technology, engineering, and math (STEM) by engaging students in hands-on, sustainable, and affordable curriculum-based robotics programs. The REC Foundation works with volunteers around the world who run VIQRC tournaments, and hosts the season-culminating VEX World Championship events. The REC Foundation is also based in Greenville, Texas, near IFI headquarters.
VIQRC Philosophies
Code of Conduct
The REC Foundation considers the positive, respectful, and ethical conduct of all students, teachers, mentors, parents, and other event attendees an important and essential component of all events. The Code of Conduct provides an overview of expectations for participants' behavior and ethical standards at all REC Foundation-sanctioned events. The Code of Conduct is posted at most VIQRC tournaments.
Rule G1: Treat Everyone With Respect
All participants are expected to conduct themselves in a respectful and professional manner at VIQRC events. If a team or its associated adults are disrespectful or uncivil to event staff, volunteers, or fellow competitors they may be Disqualified from a current or upcoming match or deemed ineligible for judged awards.
Rule G2: VIQRC is a Student-centered Program
The REC Foundation believes that all aspects of VIQRC should actively involve students in learning opportunities, and that students should have complete ownership of how their robot is designed, built, programmed, and utilized in match play. The REC Foundation Student-centered Policy outlines expectations for student and adult participation in VIQRC.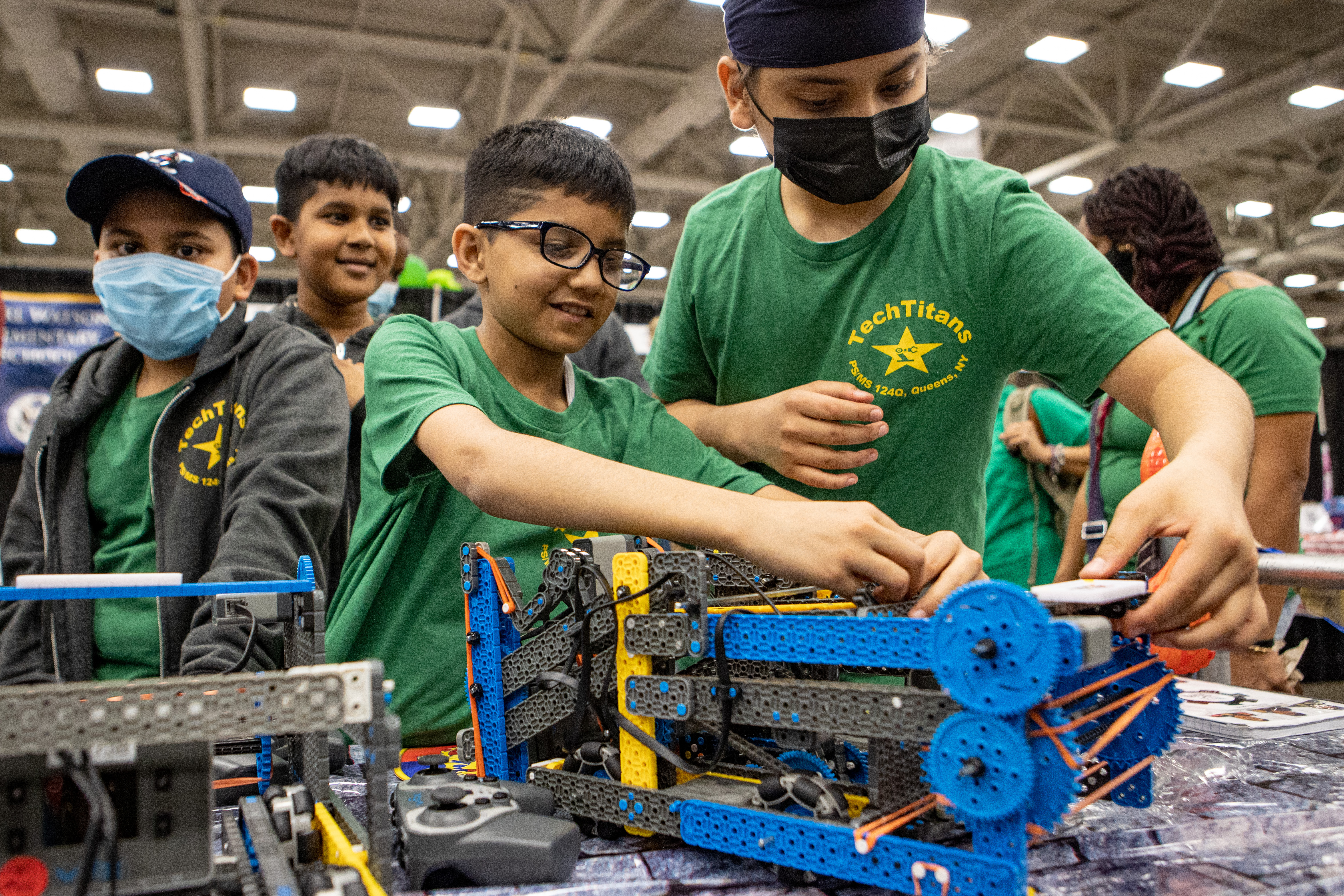 Types of VEX Robotics Competition
VEX Robotics provides competition opportunities to students from elementary school through university. Each competition type has a structure designed specifically for the participants' age range.
| | | |
| --- | --- | --- |
| Competition | Grade range | Structure |
| VEX IQ Robotics Competition (VIQRC) | Elementary & Middle School | 2-team cooperative game with robots built from plastic components |
| | Middle & High School | 2-team vs 2-team head-to-head game with robots built from metal components |
| VEX AI Competition (VAIC) | High School & University | 1 v 1, with two metal robots per team and options for custom-designed components; all robot actions are controlled by code with no human interaction |
| VEX U Competition (VEX U) | University | 1 v 1, with two metal robots per team and options for custom-designed components |
VIQRC Teams
VIQRC teams are composed of 2 or more student members; 2-6 members is typical. Each organization (usually a school or formal/informal club) is assigned a one-to-five digit number that will represent the teams in that organization. Each team then adds a single letter of their choice to the end of that number to designate their specific team. For example, Ellis Middle School is registered as organization number 4299 with teams 4299A, 4299F, 4299X, etc.
Each student on a team will fill one or more roles on the team, and it's common for multiple students to fill each role before or during a tournament.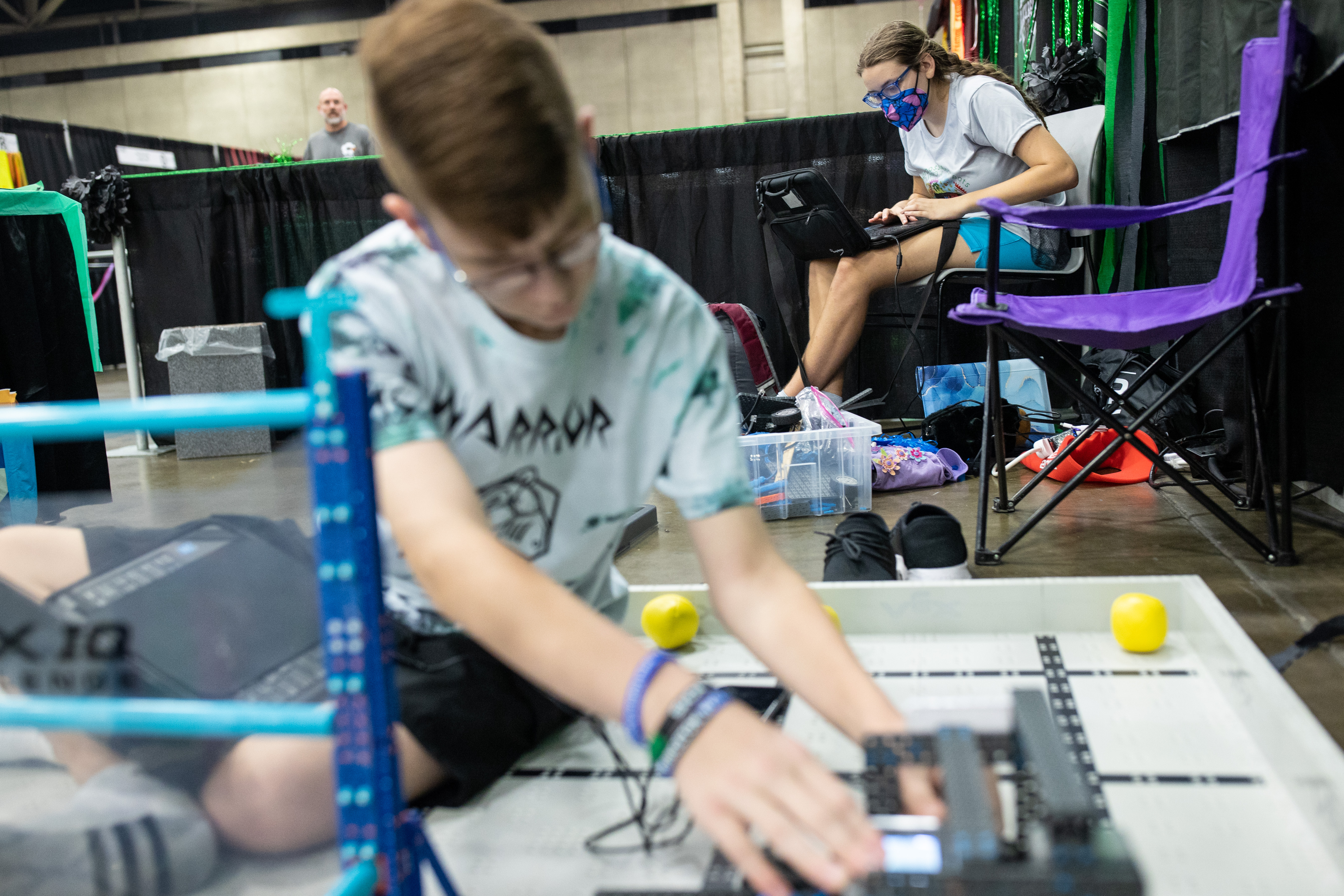 VIQRC Season Timeline
Each VIQRC season begins with the announcement of a new game during the finale of the VEX World Championship. Some teams begin to meet and plan immediately, and others begin work once school resumes in August. Organizations and teams set their own schedules based on local competitions, which generally run from October through mid-February. State, Regional, and National Championships run in March, and qualify teams to the VEX World Championships in late April and/or early May.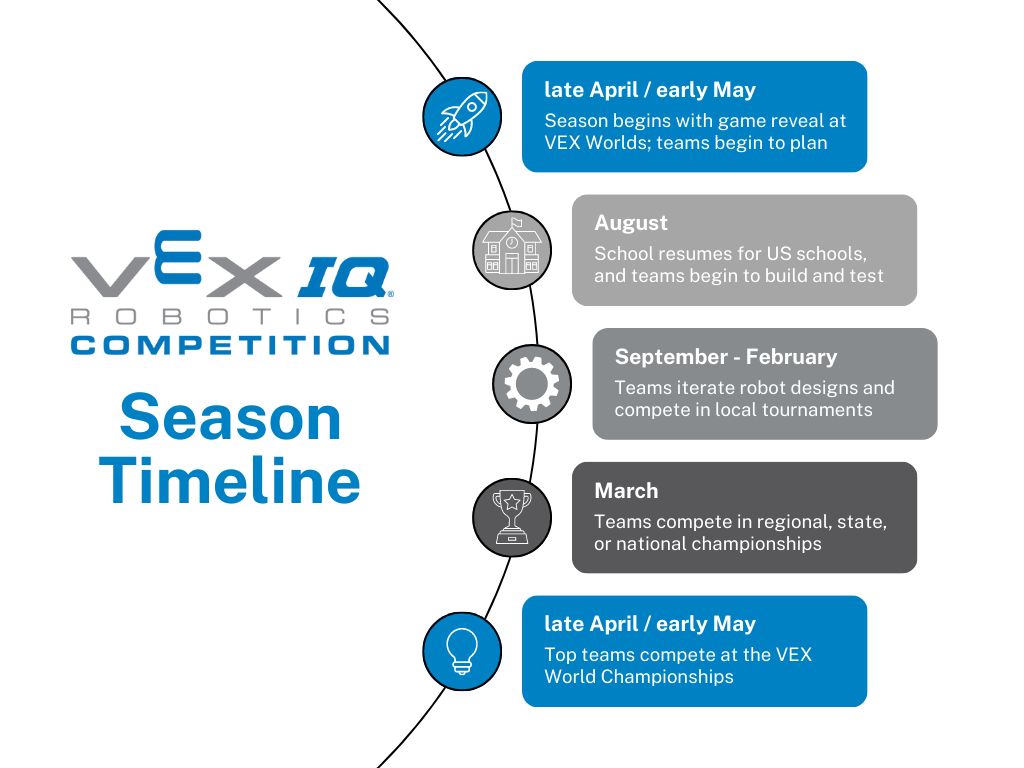 The Road to VEX Worlds
During the VIQRC season, student teams compete at local events and can qualify—through judging and/or on-field performance—to participate in State, Regional, or National Championships. Some teams at championship events will qualify for the VEX Robotics World Championship.
Local events typically occur on Saturdays and last all day
Championship events last 1-3 days, and usually run on weekends
Signature Events are large, multi-region efforts that last 2-3 days and qualify top teams directly to VEX Worlds
The VEX World Championships span 10 days, with each competition & age level competing over a 3-day period
For more information on VEX Worlds, visit this series of articles in the REC Library.
Credits
Much of the information in this article comes from a 2022 presentation by Lovejoy High School Robotics 1082 titled "Introduction to VEX Robotics Competitions," and is used with their permission.